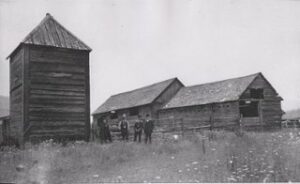 Fort Colvile or Fort Colville? The first spelling is Hudson's Bay Company (HBC) trade center just north of Kettle Falls. The second spelling is the U. S. Army post about three miles northeast of the City of Colville. The name Colvile/Colville comes from Lord Andrew Colvile, born Andrew Wedderburn, a governor of the Hudson's Bay Company in London, England. Lord Colvile never traveled to the Pacific Northwest. Americans changed the spelling to Colville. In addition to HBC Fort Colvile, Colville became the name of the general area, of one of the tribes of the Colville Confederated Tribe of Indians, the U. S. Army fort, and the City of Colville. 
In 1825, George Simpson, Governor of the Hudson's Bay Company Northern Department, ordered John Work to construct a trade center just north of Kettle Falls. John Work completed the assets move from Spokane House to Fort Colvile by March 2026. Fort Colvile played a prominent position with the HBC due to the land fertility and abundant bounty. Visitors to the fort included Paul Kane, a traveling artist; David Douglas, a Scottish botanist: members of the U. S.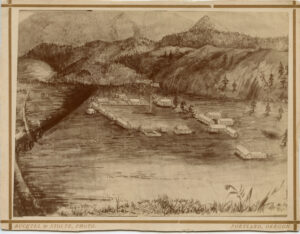 Exploring Expedition, surveying the Pacific Ocean region from 1838-1842; and Isaac Stevens, first Washington Territorial governor and head of a survey for a possible transcontinental railroad route. The HBC established the first grist mill west of the Mississippi River at Meyers Falls. With the signing of the Oregon Treaty of 1846, the HBC moved its operation to Fort Shepherd in British Columbia. In 1871, the U. S.
State Department and Hudson's Bay Company completed negotiations to reimburse the HBC for land and assets lost, and the land became U. S. Government property.
In June 1859, Brevet Major Pinkney Lugenbeel, with the 9th Infantry Regiment, established Harney's Depot to support the U. S. Northwest Boundary Survey. The depot was named for Brigadier General William S. Harney, commander of the Department of Oregon. Fairly quickly, the name Fort Colville came into use. Fort Colville continued until 1882, when Fort Spokane was fully established.